Let's face it, moving can be incredibly stressful and frustrating. Even if you're moving because of something worth celebrating – like a new home, a new job, or relocating to your favorite area – the act of moving itself is not enjoyable.
No matter why you might be moving, consider these tips to make your move as stress-free as possible.
1. Planning is Key
Unless you're forced to move quickly, one of the easiest ways to lessen the stress of moving is to begin planning your move as early as possible. If you can, allow yourself a solid 2–3 months to fully prepare. This might seem like a long time, but believe us when we say that time does tend to go by quickly and there are almost always delays in some form or another.
Outline a timeline of everything you need to do before moving day. Make sure to give yourself ample time for each task in case life gets in the way at any point. By having a clear, written plan you'll be able to alleviate stress. Having all of the things you need to do on one list can give your brain a break and eliminate the nagging anxiety of feeling like you're forgetting something important.
2. Timing Is Important
If you have the ability to plan the exact month for your move, we definitely recommend doing so. There are pros and cons to moving at any time of the year, but overall moving during the summer will be more difficult. It's the most popular time of year to move, so moving companies and moving trucks get booked up (and can be more expensive). If you have an option, consider moving in the fall before things get too cold. Conditions are easier, and it's not as busy for renting moving trucks or hiring a moving company so you may get a better deal.
3. Know Your Budget
It's important to plan your budget and have a solid grasp of what your total costs will be. Whether you move everything yourself or hire a local moving company, there are almost always extra expenses.
For instance, if you're moving alone, you'll typically have to pay for a rental truck (for a day or more), gas for the truck, and packing materials (tape, labels, boxes). There are also other optional expenses and hidden fees that may come up such as dolly and blanket rental (often from the moving truck rental) and any truck or moving insurance.
If you're hiring a moving company, you need to learn about their moving fees and research exactly what is included. In many cases, a solid moving company will offer packing services, unpacking services, and more – all at a reasonable rate. For many people, by the time they add up the costs and hassle of moving themselves, it makes much more sense to find a professional moving company that fits their budget.
No matter which direction you go, be sure to know your expenses before you begin the move. This will help you manage your stress levels and help you avoid being caught off guard by the price tag of your move – something that can seriously increase anxiety.
4. Take an Inventory of Your Valuables
If you've never done this step, believe us when we say that it is a huge way to reduce stress. And the process is easier than it sounds.
First, start with your highest valued possessions – the things that are the most important to you financially or emotionally. Things like your grandmother's photo album or your vintage guitar, for example. You should know where these valuables are at all times during the move, and keeping them at the top of your inventory can help.
Next, go from room to room with a piece of paper and a pencil (or use the notepad app on your phone). If you have a multiple-story home, start at the top and work your way down. Begin with all of the doors in the house open and then close them once the room has been inventoried so you can keep track of where you've been.
Your goal here is to write down all of the items in the room. If that sounds daunting, here's the easiest way to make your inventory list making manageable in each room:
Start with the largest, most important items first. Televisions, beds, couches, recliners, etc.
Then proceed to jot down smaller (but still notable) items. These would be coffee tables, lamps, etc.
Get as detailed as you want to be. If you would like to keep going with each individual item you may. So while you don't have to write down "Photo 3 – Honeymoon in the Florida Keys", it can't hurt if you have the time. It will certainly help if you opt to get moving insurance and things go missing.
Going the Extra Mile Can Save You Trouble
If you are getting moving insurance or using a truck moving company, it can be helpful to go the extra mile with your largest and most important possessions (at least). Writing down things like any existing marks or blemishes, the make and model, and so on can help greatly if you need to make an insurance claim.
Another simple way of handling this is to take photos to accompany your item list.
5. Start Packing Early
Packing takes longer than most people think. Often, we'll hear tales of people who try to pack the day before a move, only to realize they don't have time to finish one full room. The last thing you want is for people to show up to help you move only to find that you're still packing.
Start Getting Rid of Things
During the packing process, people also tend to find items that they no longer need and don't want to bring with them to their new homes. If you can, sell the item online or in a yard sale. Not only will you save time on packing, but you'll also maybe make a bit of cash to offset moving costs.
You should also start trying to eat up the food in the house in an effort to clean out your pantry and fridge.
By getting rid of unwanted items and eating all of the food you can, you'll have fewer things to pack and move. This can also help you save money if you hire movers to pack and move your things.
Bonus Packing Tips
If you're doing the packing yourself, there are some things to consider to make the process as smooth as possible. Some of these things might seem like no-brainers, but preparing to move can be a whirlwind – so consider them kind reminders because you've got a lot on your plate.
Home Base: Have a home base for your packing supplies. This is where labels, stickers, tape, markers, and other supplies will be kept so you and anyone helping you can always find them.
Color Code: This one is simple, and can help save a lot of time. Color code the boxes of each room using stickers, markers, labels, or anything else. Then, on moving day, hang a master sheet somewhere highly visible. For example, anything with a yellow dot might mean "kitchen", making it super quick and easy to keep things moving as you unpack.
Pack a "Move-In Bag": When you're in the middle of a big move, it's tough to know where anything is. Even if you do know where things are, it might be difficult to hunt things down and fish them out of boxes. A good idea is to have everyone in your family pack a "move-in" bag that would include the items you might pack for an overnight stay at a hotel. This means that you and your family won't be hunting for your toothbrush and a shirt to wear to work the day after the move.
Want Our Best Packing Tip?
Let a qualified moving company pack for you. For many people, packing is a grueling, time-consuming process that causes nothing but stress. If you're like many others and the very thought of packing starts making your anxiety flare-up, then let someone like WeMoveU handle all of the packing for you.
Our packing team is trained, experienced, and professional movers who are experts at packing all items from large furniture to small delicate things. They'll arrive at your home (or business) to masterfully and carefully wrap all of your possessions and put them into labeled boxes. We can have you ready for your moving date in no time. And yes, we offer packing – and unpacking – services even if you don't use our moving services!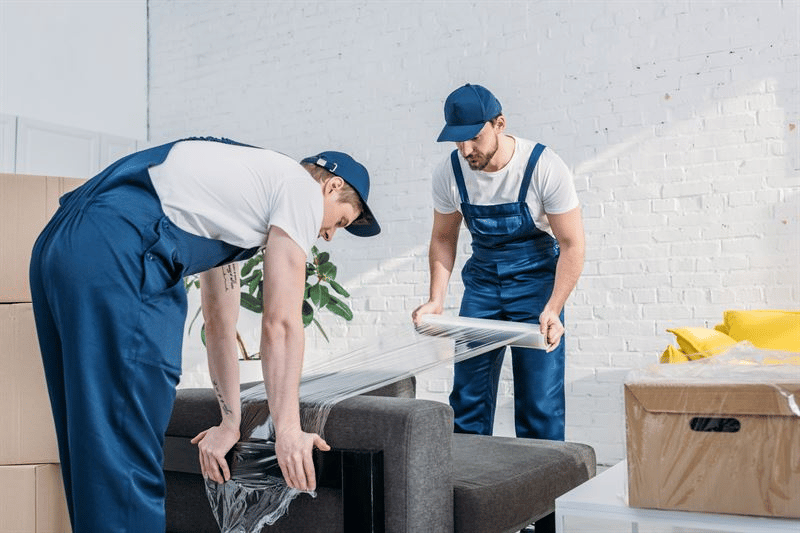 6. Strongly Consider Hiring a Moving Company
Many people try to go at it alone when it comes to their move (and when we say "alone", we mean "themselves, a few close friends who own trucks, and a couple of pizzas"). One of the main reasons people do this is because they don't realize how affordable hiring a moving company is these days.
Something else to consider is that people are busier than ever – yourself probably included. We've found that with people being as busy as they are, having to plan and execute a move (let alone pack and unpack) can be way too much for them to handle.
Not only that, but with an increasing amount of people working from home, this move affects their home office and their ability to perform at their jobs. By hiring a moving company you can get your move done with as little downtime as possible.
The same goes for business and commercial relocation as well. If you need to be back up and running in the absolute minimum amount of time, we don't recommend you try to go it alone with your move or you'll be risking increased downtime and overwhelming planning and logistics.
No matter what move you're undertaking – personal or professional – consider having a moving company in your corner to help you have the best and most stress-free move possible.
The moving process can be a massive drain on time, mental health, and finances. Have you ever considered hiring a moving company? If not, let us surprise and delight you with our affordability and the level of our excellent customer service.
Local Movers Are Not Created Equal
We do want to warn you about one thing in your search for a moving company, though: When looking for movers in Los Angeles (or anywhere else), be sure to do your due diligence. Don't just hire any random company – make them prove their quality.
For example, here at WeMoveU, we have:
Over 12 years of moving experience.
Have completed 54,000+ moves.
Have a 100% customer satisfaction rate.
Have a 0% claim rate.
Be sure that any moving company you consider hiring in the Los Angeles area can provide you with quality moving statistics like that.
Local Moving Is Our Specialty at WeMoveU
Here at WeMoveU, we aren't just professional movers – we're professional movers who truly care about you and every single one of your possessions. When you choose to use our moving services, you can rest assured that you're getting great prices, fast service, and an overall stress-free experience from beginning to end.
WeMoveU is the best of the best when it comes to Los Angeles moving companies – and we don't just handle local moves. We've completed moves to every state in the mainland United States and have a 100% customer satisfaction rate.
So you really want the #1 tip for a stress-free move? The true answer is to hire WeMoveU and let us take care of everything for you.
Let's talk today about how we can help with moving services in the Los Angeles area. Call us now at 1-800-742-3070 or reach out to us online for a free quote. Our LA movers can handle your packing, moving, and unpacking so you can focus on the other important things that need attention.