If your business has outgrown its current facility, it's a sign that you are on the right track. However, with a growing business comes different challenges, including moving to a new location.
When moving your business, there are a lot of details to handle and you'll need help from professional commercial movers.
Business moves are not as easy as they sound, especially when it comes to moving office furniture, computer equipment, inventory, records, and other valuable items. Moving them on your own might take much longer, cause damage to the company's possessions, and hinder business processes. The last thing a business owner wants is for their office to be in shambles before and after moving into a new space.
In this article, we'll tell you the benefits of hiring commercial movers and how it offers the best return on investment. We'll also talk about tips for choosing the right commercial moving company for your next move.
What Is Commercial Moving?
Even if you have completed a residential move by yourself, commercial moves are very different as you have to keep your business operations running smoothly throughout the process. You will need a thorough plan on how the items will be packed and moved in order to keep your business running efficiently during this transition. An expert team from a reputable commercial moving company can help you organize, pack, load, transport, and unload your entire office, warehouse, or another operation center. They can even take care of your new office setup like assembling furniture.
Overall, office movers can take away all of the hassles related to relocating your facility, and you can focus on other aspects of your business.
Here are three stages of commercial moving:
⦿ Planning
Moving equipment and furniture can be a long task, especially when you are planning to shift your entire business to a new location. Commercial movers will draft a detailed plan of what to move first according to your requirements. The plan ensures things are packed and transported in a sequence that causes the least amount of disruption to your business.
⦿ Packing and Moving
After planning comes the hard part. The next stage involves packing and loading your business assets onto trucks, then safely relocating them to the new building. Commercial movers are experts in moving large office equipment, sensitive documents, furniture, and other objects so you can expect them to deliver your belongings in an efficient manner.
⦿ Unloading and Unpacking
The entire process ends with the movers unloading the items at the final destination.
At WeMoveU, we understand that quality business moving services are crucial for any company looking to relocate, and we strive to make the transition easier for you. We will not only unload and move in your items, but we can also help you unpack and assemble furniture.
Top Benefits of Hiring a Commercial Moving Company
We have curated a list of some of the perks businesses can enjoy with the services of commercial movers.
1. Less Stress and Hassle for Your Employees
Asking employees to help you move the business might seem like it is a good way to save money. However, putting more responsibilities on their shoulders can result in stress and may complicate the process. Surely, your employees are experts at doing their job, but moving a business is a big task and strenuous activity.
Furthermore, certain rules must be followed when conducting a large business move, such as getting all permits for transporting bigger office equipment and appliances. And at the end of the day, it is not your staff's job to relocate your business.
Hiring a commercial moving company to handle the move eases the stress, and employees can focus on keeping business operations running while transitioning to a new location.
2. They Don't Miss Anything
Relocating your business is full of large and small tasks, and it's pretty natural to forget to move a few items. However, when a commercial moving company is handling things, you can rest assured knowing that everything will be moved as promised.
These expert movers will make a checklist of everything before and after loading to ensure they have transported all of your equipment and possessions. With years of experience, professional office movers will always be on the lookout for anything that is out of place or left behind.
3. They Are Licensed and Insured
After your employees, your business equipment is probably the most important asset your company has so they should be handled with care. Most business equipment is expensive; hiring commercial movers will give you peace of mind that it will be safe and sound during transportation. All commercial movers are required to be licensed and insured to ensure that they are capable of handling your move and protecting you from any unexpected costs or accidents.
4. No Disruption to Your Business
Moving your business to another location doesn't mean you should have to pause your business operations. Your employees can work to keep the business running while a commercial mover can handle the move. The best commercial moving companies will have a thorough plan to keep the business process disruption to a minimum.
In short, you can relocate your business to a new building while keeping its operations running with the help of your employees and office movers.
5. Your Expensive Equipment Will Be Moved Safely by Professionals
Whether you own a large business or simply have valuable equipment that needs to be moved, it is essential to enlist the help of a professional commercial moving company. The team will be highly skilled in the art of safe and efficient moving. They can quickly and efficiently transport even the largest pieces of equipment.
The commercial movers will properly pack expensive and fragile items to ensure that they remain intact during transportation. They have access to all the right tools, packing materials, and equipment needed for transporting large or bulky items, such as pallets, dollies, ramps, blankets, straps, and more. You can be confident that all your possessions will be relocated safely, in the condition they were before moving.
At WeMoveU, we can take care of everything, such as packing, loading, transporting, unloading, and unpacking important items at the final destination. We even offer white-glove moving services for fragile and expensive items, and in case something goes wrong, we are fully insured.
Call us at 800-742-3070 for a detailed quote or to learn more about our commercial moving services in Orange County and Los Angeles.
6. Hiring Commercial Movers Saves You Money
Some people think that commercial moving services are an extra expense that can be avoided. However, that's not the case; hiring office movers actually saves you money. When you move your business on your own, you need to rent moving trucks and other equipment. You also need to pull your employees away from their main duties and disrupt your business. Plus, inexperienced movers are less efficient and will take longer to move your items.
All of this comes at an expense. On the other hand, with commercial movers, you only pay one charge for professional business moving services and can continue operating your business as long as possible.
As a result, you can save money when professional movers handle things for you.
7. Commercial Movers Are Experienced and Trained
One of the biggest benefits of hiring commercial movers is that they are trained and experienced. These experts have the knowledge to pack and load up your office space efficiently.
Moreover, commercial movers have completed many jobs and training programs, so they can work quickly. Their experience should give you more confidence and make it a stress-free business relocation.
8. Commercial Business Movers Can Pack and Unpack Things for You
How you pack your possessions determines how safe they will be during transportation. With commercial movers there to help, you don't have to worry about packing. Many commercial moving companies offer an additional service of packing and unpacking your items. Utilizing this service will save time and guarantee everything is properly stowed for the move.
The movers can pack your office space and unpack everything in the new office space with your direction. This will make it easier for you and your employees to get right to work.
Tips on Choosing the Best Commercial Movers in Los Angeles and Orange County
In order to experience all the aforementioned benefits, you need to partner with a reliable commercial mover who understands your needs.
Here are some easy tips for choosing a good commercial moving company.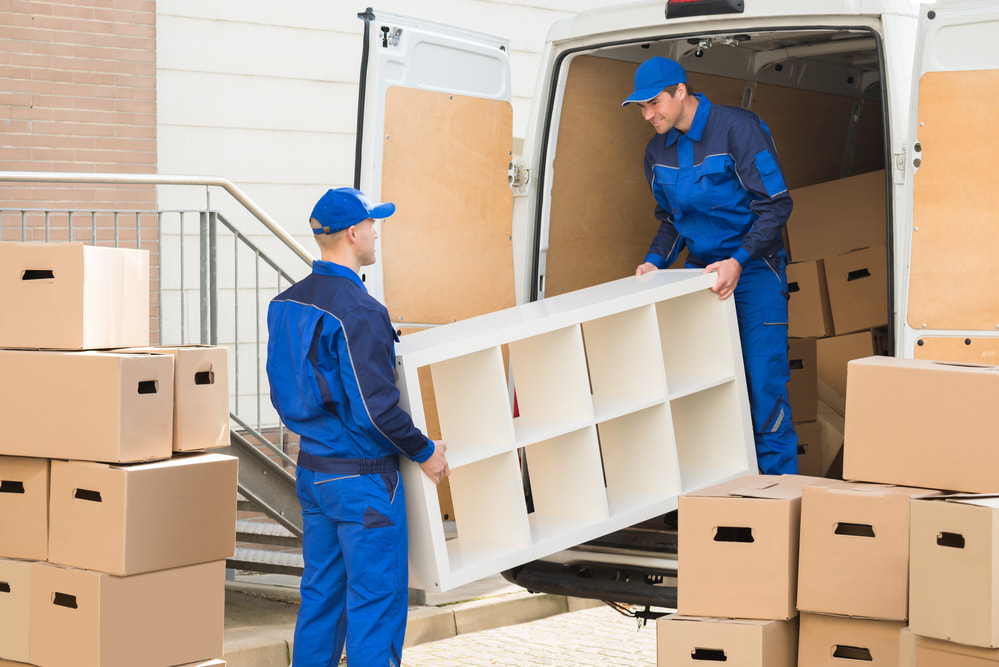 Make Sure the Mover is Licensed
You want to ensure the people handling your things have the proper training and knowledge, which is indicated by holding a license. Additionally, if you are moving a large amount, it's essential to hire a mover registered with the U.S. Department of Transportation (DOT). This curtails the risk of experiencing any legal barriers during transportation.
The Movers Should Understand Your Needs
You can find a commercial mover that will work to understand all your needs. They should advise you of the moving services you might use for an easier experience. For example, if you want to move fragile goods, the movers should tell you about the white-glove services that offer extra care for your possessions.
Hire a moving company that gives you genuine suggestions while helping you cut down extra expenses.
Check Reviews
It's important to have a commercial moving company with a good reputation. You can check with the Better Business Bureau and skim through customer reviews online to learn more about their skill, communication, and customer service.
The Movers Should Provide a Detailed Estimate
Some people worry that commercial movers charge extra fees without any prior intimation. The easiest way to avoid this is by getting a free quote. Make sure the quote has everything, including the extra moving services you have opted for, the set timeframe, and the taxes.
At WeMoveU, we offer a detailed quote to our customers and there is no place for any hidden charges. If you opt for any extra services when we are on the site moving your goods, we'll make sure to explain the additional costs before beginning.
Fill out our form online for a free estimate or call us at 800-742-3070. We can help relocate your business within Los Angeles and Orange County or across the country.
Stay Away From Lowball Estimates
Be wary of any cost estimates that happen to be way lower than estimates of other moving companies. A "lowball" estimate could indicate potential moving fraud.
Ask Your Movers the Important Questions
Lastly, before signing a moving contract, you should ask the movers a few questions, such as:
How long have you been in business? (Reason: The more moving experience they have, the smoother the move will be.)
How do you prevent property damage during the move?
What happens if any of my items get lost during transit?
Can you move fragile goods?
Are your employees background-checked?
Do you have the proper licensing and insurance?
These questions should help you choose the right commercial moving company for your business.
🚚 Move Anywhere, Anytime, and Anything with WeMoveU!
At WeMoveU, our team members have been in the commercial moving industry for many years and our clients trust us with everything, be it expensive possessions or strict deadlines. Our professional movers are efficient, careful, and committed. They can guide you through the entire process of a business relocation without hassle. Plus, we are fully licensed and insured.
If you are planning to move your business in Los Angeles, Orange County, or the surrounding areas, WeMoveU can help!
Just give us a call at 800-742-3070 or get a free estimate online.